Custom Die Cast Medals
For smaller orders and faster turn around times, Click here to view our interactive stock medallion catalog.
Please contact us with any questions regarding our die cast custom medals & neck ribbons!
*Professional & economical option for road races, track meets, sport tournaments and more!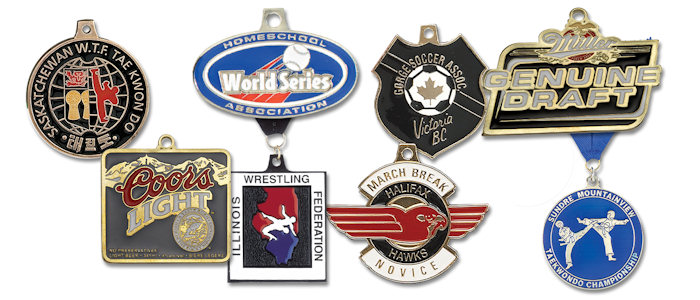 PRICING
Our goal is to be completely transparent and competitive with our pricing, which to us, means not adding any unexpected costs to your purchase. All of our medal pricing is below. The only thing not shown is sales tax (assuming you're not tax exempt).  Sales tax is currently an additional 9.017 cents for every taxable dollar spent.
Please contact us for an official quote, or for any ideas on how to reduce the cost of your order.
Size
100
300
500
1000
1.5″
$4.38
$2.82
$2.28
$2.04
1.75″
$5.04
$3.14
$2.62
$2.28
2″
$5.64
$3.56
$3.00
$2.82
2.25″
$6.06
$4.14
$3.44
$3.14
2.5″
$6.92
$4.90
$4.18
$3.76
2.75″
$7.98
$5.54
$4.90
$4.50
3″
$8.38
$6.14
$5.44
$5.20
Additional Notes & Costs
Call for a quote on any size or quantity not listed.
Prices are for one-sided medals with 1/8" (.125″) thickness.
Medals come in gold, silver or bronze
Add $0.10 per color
Engraving on back adds $0.60 per medal
Custom Cut-Out shape, add $30.00 per design
Allow 4 weeks for production & 1-5 days for shipping after artwork approval.
Shipping costs not included (free pickup from store)
Mold/Set up Charge $100
Second Side (For Coins), $30.00 per design
Neck Ribbons
$0.79 per 7/8″ blank neck ribbons
$0.99 per 1.5″ blank neck ribbons
$1.50 per 1.5″ (1) color custom print neck ribbons